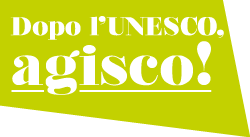 Information
About us
After UNESCO, act! is a project of Regione Piemonte's Department of Culture and Tourism, the main aim of which is to improve the Langhe, Roero and Monferrato areas included by UNESCO in its World Heritage List.
Since 2019, a number of neighbouring municipalities indicated by the Association for the Heritage of the Vineyard Landscapes of Langhe-Roero and Monferrato have been involved in the initiative, with a view to raising awareness among as many people as possible of the need to protect these extraordinary places. The selection criteria were:
1. Farming and particularly vineyard landscape.
2. Presence of well-conserved castles open to the public.
3. Prestigious winegrowing areas.
It is intended for those who live, work, study or own a second home here.
After UNESCO, Act! actively involves citizens, mayors, schools, businesses, associations… inviting them to take part in a great game.
After UNESCO, Act! will reward those who distinguish themselves with initiatives for improving the quality of the countryside and urban areas to the benefit of the general public, with creative action that is friendly toward the environment, that possibly uses recycled materials.
The title of World Heritage must be taken as the starting point for a shared project in pursuit of and maintaining a culture of the beautiful and the clean, which concerns the entire territory from the hamlets at the bottom of the valley, to the residential areas. A commitment of an individual or a group that wants to be a champion of this extraordinary wine-producing landscape, activating and encouraging virtuous behavioural models are contagious for the entire population.
Please help us to improve our territory, day after day, year after year!