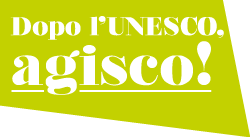 Information
About us
"Dopo l'UNESCO, agisco!" (After UNESCO, act!) is a project of Regione Piemonte's Assessorato alla Cultura e al Turismo (Department for Culture and Tourism), the main aim of which is to improve the Langhe, Roero and Monferrato areas included by UNESCO in its World Heritage List.
Since 2018, the Piedmont Region has been sharing the organisation of the community game and of the communication and award-presentation activities with the Associazione per il Patrimonio dei Paesaggi Vitivinicoli di Langhe-Roero e Monferrato (Association for the Heritage of Vineyard Landscapes of Piedmont: Langhe-Roero and Monferrato) – managing body of the UNESCO Site.

The Association for the Heritage of Vineyard Landscapes of Langhe-Roero and Monferrato was established in January 2011 by the founding members: the Piedmont Region, the Province of Alessandria, the Province of Asti and the Province of Cuneo. The Association aims to coordinate all the governance, enhancement and protection activities of the UNESCO site of the Vineyard Landscapes of Piedmont.
Its primary objectives concern the deepening of knowledge of the cultural and landscape heritage that characterizes the site, its enhancement, promotion and awareness, together with the search for a socio-economic development of the territories, in line with the values of the candidacy. The Association represents the management body of the UNESCO site and for this reason it works on many large-scale projects including: Io Agisco in collaboration with the Piedmont Region.